Exploring the Interdimensional World of Dolphins & Whales with Bashar & April
Imagine having a life changing experience filled with the joy and excitement of swimming with wild Spinner dolphins in the clear tranquil waters of the island of Hawaii. Imagine encountering, from our boat in paradise, other amazing cetaceans and manta rays in the turquoise waters surrounding us. Imagine becoming the person you were always meant to be, living your best life and expressing your highest potential!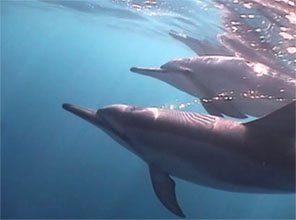 Join us on OCT 14-20, 2012 for this unique opportunity to take a guided journey into the interdimensional world of dolphins and whales with Bashar and April. For the first time Bashar has created a series of guided meditations that each day will lead us through our journey of contact with the dolphins and whales. These meditations are designed to open your consciousness to the higher, rarified frequencies of dolphin communication and allow you to use the information and energy you receive to transform your life and transmute the ideas and issues you are exploring.
Each day, before we depart on our boat trip to meet the dolphins, we will begin with a pre-recorded guided meditation from Bashar. There is a specific order to these meditations and they are created to help you open in stages to different levels of your own consciousness so that you can integrate the messages and energies of the dolphins in a sequential way.
Later each day our group will come together again to share and explore and you will also experience another pre-recorded guided meditation from Bashar to help you integrate what you have received that day. This second meditation will prepare you for further interaction with Bashar and other consciousnesses in your dream-time each night.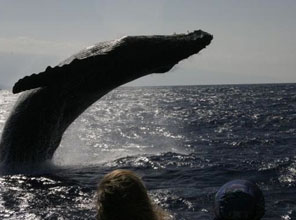 By the end of this amazing week-long journey you will find a "new" more integrated YOU, ready to embark on your new life with energy and enthusiasm and prepared to handle the accelerated energies coming in 2012! This workshop is a rare opportunity to help you design and live the life of your dreams with the help of Bashar and our cetacean friends.
Also, during our week together you will have an opportunity to explore with April Rochelle, MA, MBA many of the important concepts shared by Bashar such as "How to build a life where your highest excitement is the organizing principle," Enhancing communication with dolphins and whales through telempathy," "Transforming obstacles into opportunities so you can live the the life of your dreams."
Our week will culminate with a gourmet dinner celebration at a beautiful ocean view location followed by a powerful integrative Bashar Guided Meditation with the Holotope*, a profound multi-media experience of light, color and sound.
Our Itinerary for the week includes:
When: October 14-20, 2012
Sunday Evening, October 14: Welcome and Introduction
Monday, Tuesday: Our day will begin with a morning guided meditation with Bashar, followed by a 4 hour wild dolphin boat swim, afternoon/evening sharing and exploring with April; finishing our day with a guided meditation with Bashar.
Wednesday: Late morning Guided Meditation with Bashar, afternoon 3-hour snorkeling excursion, evening sharing and exploring with April culminating in a guided meditation with Bashar.
Thursday, Friday: Our day will begin with a morning guided meditation with Bashar, followed by a 4 hour wild dolphin boat swim, afternoon/evening sharing and exploring with April.
Friday Evening: Evening gourmet dinner and final Holotope Guided Meditation with Bashar to integrate all that we have experienced!
Saturday, October 20: departure
Where: Royal Kona Resort, Kailua-Kona, Hawaii
Seminar Cost: $1,995 (double occupancy)
Non-Refundable Deposit: $400 per person
(balance due by Sept 15, 2012)
Includes: 7 days/6 nights accommodations in the beautiful oceanfront Royal Kona Resort located within walking distance to shops and restaurants (double occupancy ... if you prefer a single room, the single supplement is $450) and one delicious home-cooked gourmet dinner. Four dolphin boat swims (4 hours) with snorkeling gear and snacks provided plus one 3-hour afternoon snorkeling excursion.
Also included: All transportation to boats and all retreat meetings.
What is not Included: Airfare to and from Kona, Hawaii (KOA Kona International Airport), transportation to and from the airport and meals except for one gourmet dinner the last night of our adventure together.
Cancellations: The $400 deposit is non-refundable. If you cancel and we are able to fill your space, then we will refund your full deposit less $100 processing fee
Disclaimer: Since we are swimming with wild dolphins, we cannot guarantee that we will always find the dolphins, however we are very fortunate in Hawaii and usually we encounter the dolphins 95% of the time.
| | | |
| --- | --- | --- |
| | | |